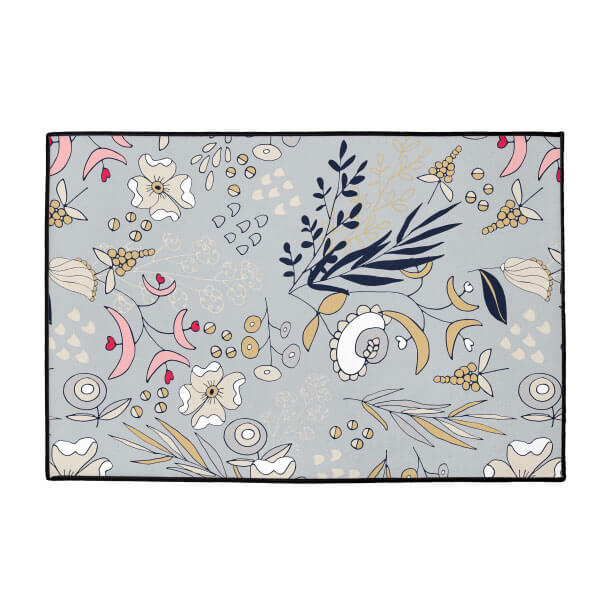 Outdoor Space
Indoor/Outdoor Floor Mats
Keep the dirt outside where it belongs with the help of our of our indoor/outdoor floor mats. Made of 100% polyester, these mats are excellent for homes with frequent guests or little ones who may accidentally track dust and dirt in from the yard. A stunning housewarming gift, these rugs are durable and customizable, giving the home a bit of a functional upgrade.
Product Info
Product Cost

Starts at $19.99

Base Shipping Cost

$12.99

Ships From

US

Ships To

Worldwide

Production Time

3-4 business days (Average)

Shipping Options

Standard
Expedited
Overnight
Product Options

Product Options
Product Costs

Product Costs

Product Cost Data

| | |
| --- | --- |
| 18x24 | $19.99 |
| 24x36 | $29.99 |
| 36x60 | $67.99 |
Product Details

Product Details

Materials

100% polyester 20 oz. loop carpet includes black trim and a black rubber durgan tread backing for nonslip protection. Perfect for both indoor and outdoor use.

Color

White face, black backing

Print Side

Care

Hand clean with cool or warm water and allow to air dry. We recommend using Scotchguard or similar protectant to help reduce wear and tear.

Print Technique

Artwork Notes

Please note that due to a production tolerance of up to 0.5" from print alignment, we recommend not using frames or borders immediately close to the print border.

Expectations & Variances

With solid dark backgrounds, the loop does tend to show some of the white underneath as the colors only "dye" the tops of the loops, occasionally causing little white spots to be noticeable.

Packaging

The small and medium sizes packaged in a 6x6x24 box, largest size ships in a 7x7x37 box.
Printing Specs

Printing Specs

Product Printing Specs

| Product | Print Area (width x height) | Resolution | Safe Zone (width x height) | Bleed (left, right, top, bottom) |
| --- | --- | --- | --- | --- |
| Indoor/Outdoor Floor Mats - 18" x 24" | 5000x3800 px | 200 ppi | 4600x3400 px | 100, 100, 100, 100 px |
| Indoor/Outdoor Floor Mats - 24" x 36" | 7400x5000 px | 200 ppi | 6800x4400 px | 150, 150, 150, 150 px |
| Indoor/Outdoor Floor Mats - 36" x 60" | 9150x5550 px | 150 ppi | 8750x5150 px | 200, 200, 200, 200 px |